This summer the industrial / ebm / dark noise fans will rejoice in the new album releases from Imperative Reaction (Imperative Reaction 09/2011), God Module (Seance 09/2011), and System Syn (All Seasons Pass 10/2011)!
Each band has been leaking samples and singles from the album. I have yet to hear a song that I didn't instantly consider a hit! I am usually not a fan of remixes, but there are some damn good ones being released. Imperative Reaction has released 4 versions of their first single, Surface.
(I am listening to them as I write this blog)
If you find all of these bands on Facebook, you can click on their bandpage tab and preview some of the tracks, or even watch the Surface music video.On their Facebook page, you can also find the links to purchase the albums. All three bands are releasing their CDs with special limited edition box sets. God Module is releasing Seance with a specially created Ouija boards. All three bands have also loaded the limited edition boxes with lots of special add-ons. Posters, buttons, stickers, postcards, books, wristbands, and special limited box set only T-shirts!
When a band releases a CD, I can only think of one thing.... When will they tour??? I have never seen System Syn or Imperative Reaction perform, and now I can finally get that chance! The Triptych tour was just announced, and all three bands are on the bill. This tour will end its US rounds in LA, at the wonderful Das Bunker, on Halloween weekend!! Although System Syn will not be performing on this date, I can't imagine a better way to start the best holiday of the year :-D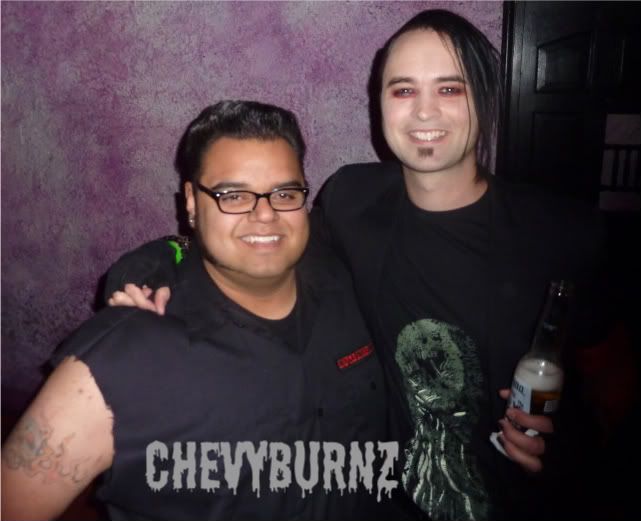 Clint Carney and I April 2011 at Das Bunker
This is going to be an interesting set of bands performing...Clint Carney is a member of all 3 bands!Adam Vex is also going to be doing double stage duty, as a member of both Imperative Reaction and System Syn. Both Adam and Clint have messaged me on Facebook, and confirmed performing with each group.
Tickets are on sale for the Das Bunker show in L.A. I would not sit on this... We should be buying tickets in the near future. (the last show we went to at Das Bunker sold out...)
Recently announced, you can purchase VIP package tickets for all shows, including the LA show at Das Bunker. Ticket will include VIP meet and greet, Limited Edition Shirt, show Laminate and a few other goodies. VIP tickets are extremely limited (only 20 per show) so get yours soon!
**Announced today, DJ Joe Letz of Combichrist will be joining the tour, after the Gothic cruise as a special guest DJ between sets. Joe will also be hosting the VIP meet and greets **
To pre-order singles and albums, go to the bands web page. I have provided a link to all three...